Overview
As a digital design director I specialise in transforming the arts, luxury, and Web3 sectors through innovative and engaging user experiences.

During a career spanning over two decades, I have been a consistent advocate for innovative design and technology in the visual arts. In addition to my 8 years at Christie's, I previously led successful design teams at Tate and the Whitechapel Gallery, specializing in areas like UX/UI, Web3, AR/VR, and AI.


2023 Awards
Webby Awards —Winner

Best User Experience



Webby Awards —Winner

NetArt Websites and Mobile Sites



The Crypties —

2023 Industry Achievement Award



The Lovie's —Finalist

Best Arts Website, Web3



Webflow Awards —Finalist,

Best Microsite




Speaking at the Christie's Art+Tech Summit 2022, URL to IRL: How to experience NFTs and the Metaverse.
Christie's
2021–Present

As a Director and Global Head of Digital & Innovation in Corporate Marketing, I bring vibrancy and creativity to the forefront, leading a dynamic UX product design team. Together, we have launched an array of iterative design updates for our website and iOS app, constantly elevating our digital presence. My team and I are also responsible for spearheading innovative incubation projects, including a state-of-the-art 'Buy Now' platform and a bespoke white label service for art fairs, both of which have significantly enriched our service offerings.

In my present role as Head of Digital Design I collaborate closely with the Head of Client Experience, pioneering a future-focused approach to our omni-channel products. We're constantly pushing the boundaries, integrating cutting-edge technologies such as Augmented Reality and Virtual Reality into our portfolio. From prototyping groundbreaking features and refining business-getting software to launching video chat capabilities, virtual galleries, and unique sponsorship initiatives, we're at the helm of digital transformation. We've also ventured into developing SaaS platforms, enhancing our ability to deliver unparalleled value and service to our clients.


Hanging out in the Metaverse
Christie's
2016–2020

Between 2016–20 I led Christie's dedicated design studio overseeing advertising campaigns, in-person experiences and brand development for the world's largest auction house, while designing full-service marketing assets across digital, exhibition, print and motion graphics.

The global team based primarily in Hong Kong, London and New York create bespoke multi-channel campaigns for live auctions, single-owner collections and individual lots. Visual solutions are based on design best practices, CRM data learnings and latest market insights.


Styling: Masterpieces of Design & Photography, Art Moderne and Classic Week.
I'm a proponent of 'in-house' studio culture, it enables holistic, active involvement; from initial business strategy, face-to-face client pitches, design briefing, concept development, problem solving using iterative design processes through to agile development, product testing and delivery. I enjoy all aspects of the design process and remain hands-on, styling photo shoots, building campaigns or designing displays while delegating to others and their respective specialisms.


Display: Impressionist & Modern, Contemporary, Silver & bronze, Asian antiquities, Surrealist art, Old Masters and Picasso Ceramics.

Christie's is incredibly fast-paced and I have honed responsive creative skills and production processes. Auctions are live events with hard deadlines, only cohesive and inclusive teamwork can accomplish +380 live auction creative solutions per year.

I've led as Creative Director on a broad range of projects, in both scale, scope and schedule. Highlights include: The George Michael Collection campaign and auction display, Christie's Magazine relaunch, website transformation, branding 10 collection sales and overseeing 3,456 design jobs through the London studio.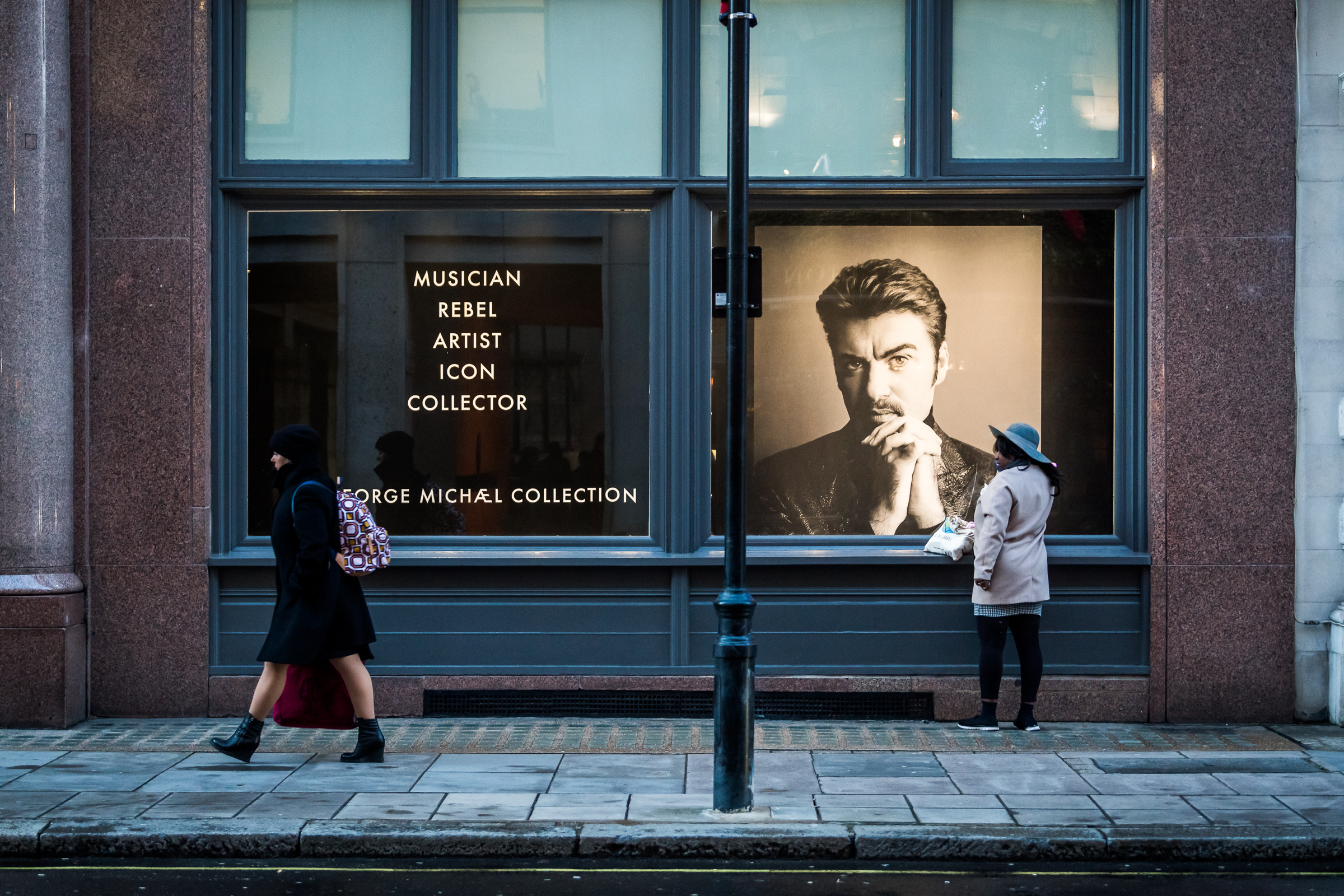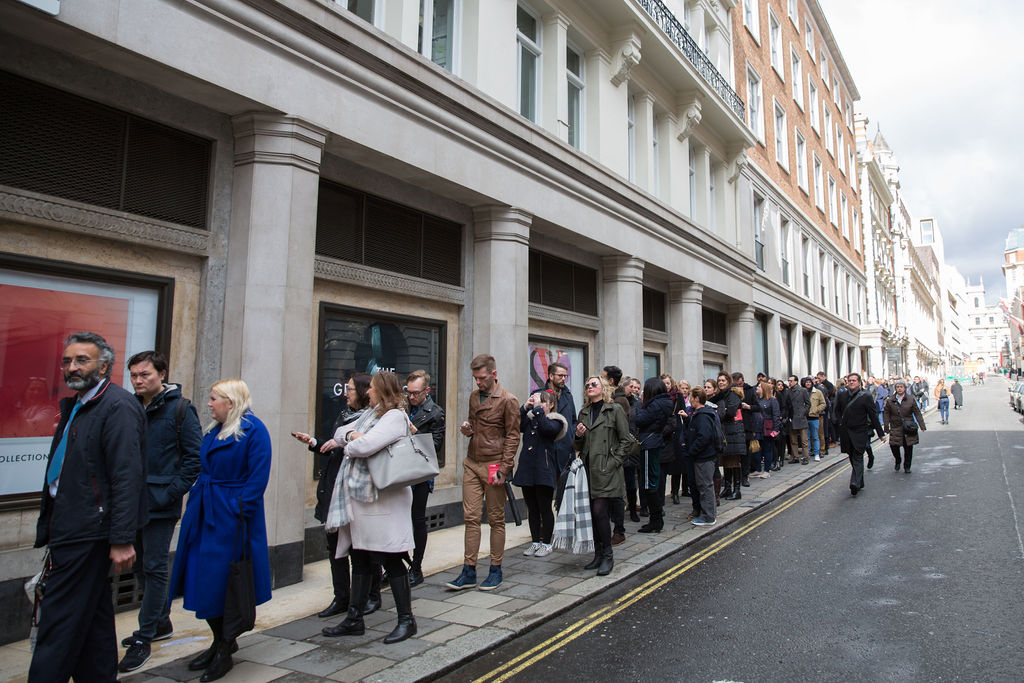 The George Michael Collection at Christie's LA, New York, Shanghai and London.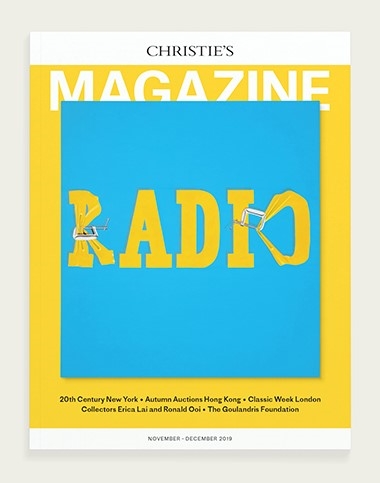 Christie's Magazine redesign (2019).


In Q4 2019 I was part of a 5 member internal strategy group set-up to tackle sustainability and digital engagement, I'm proud to have made a positive contribution, cutting Christie's print output by 50% and spearheading a digital initiative to drive online client satisfaction levels. Part of this program was to launch a new Viewing Room section of the website, in 2020 we saw over 1 million unique visits to this new immersive art viewing experience.



Read more



In Q1 2020 I began working with an external design agency to lead part two of this ambitious project which involves re-designing our digital platforms. This work built on my 2017 wireframing of the current site - a new layout, including a live data driven 'trending' art section.


Christie's Homepage Re-design, 2017 - Wireframing and design.



In Q4 2020 I became Global Head of Digital Design & Innovation at Christie's, where I launched and continue to lead a new internal innovation lab, incubating augmented and virtual reality capabilities, successfully developing a SaaS platform for art fairs and a luxury Augmented try-on app whilst continually iterating new UX/UI improvements across christies.com.



Tate brand refresh.

In 2011 I co-founded the Tate Design Studio, becoming Head of Design and in-house project lead for Tate's brand refresh in 2015. I partnered with an external agency, North, to work with the internal teams to revitalise the identity and launch it in conjunction with the opening of Tate Modern's new expansion project.

Working across 4 museum sites for Tate - Modern, Britain, Liverpool & St Ives I was responsible for maintaining and ensuring brand consistency. I led a team of 5 creatives from London, our remit spanned all touch points; exhibition interpretation, education resources, product design, national tour collateral and trustee reports.

︎

Its Nice That - Article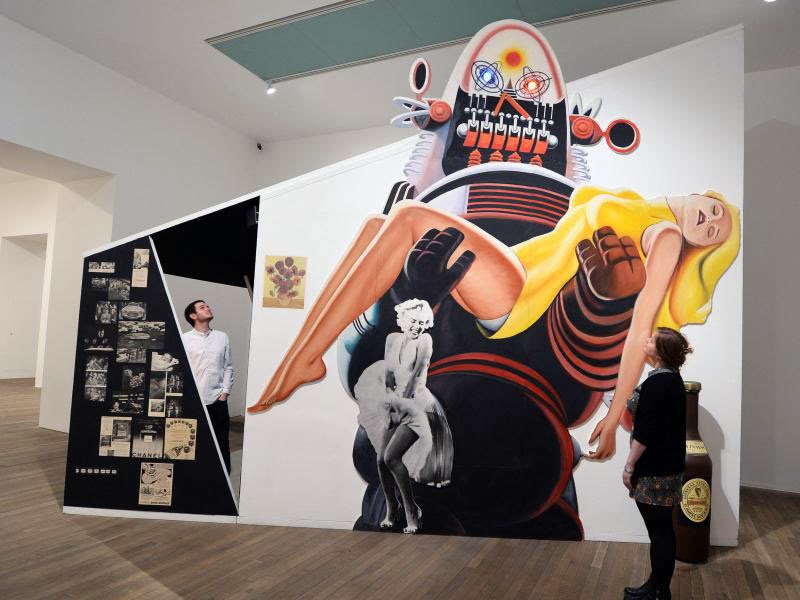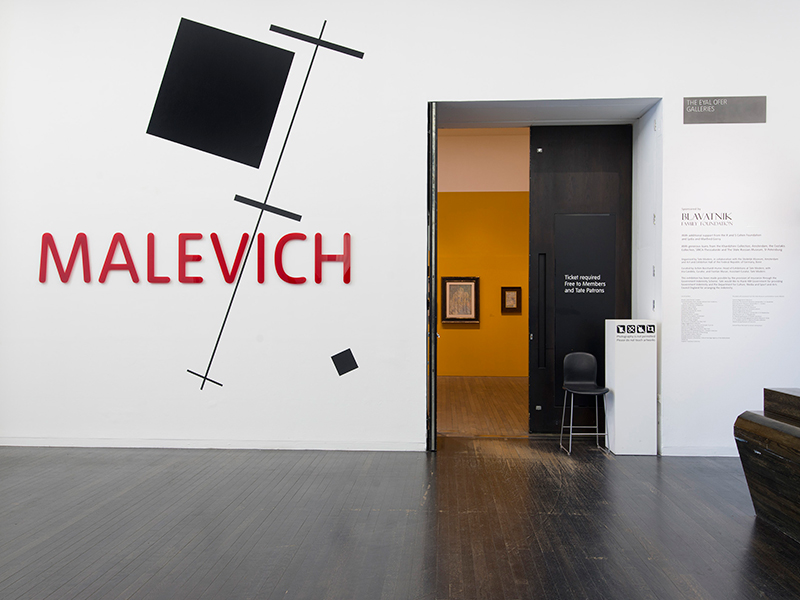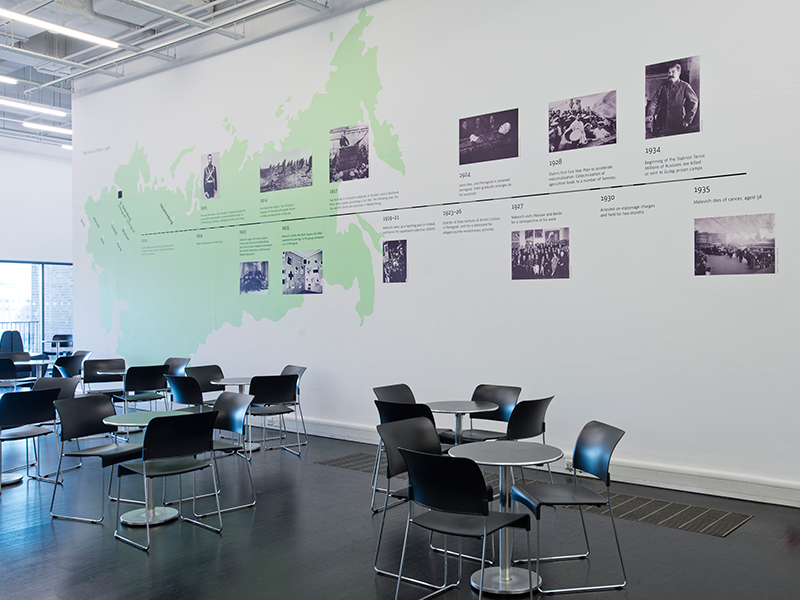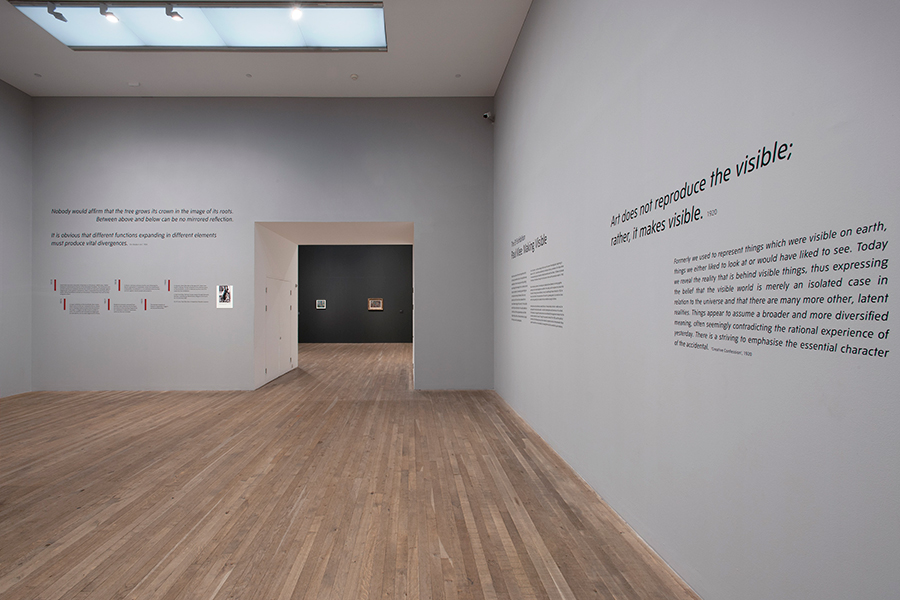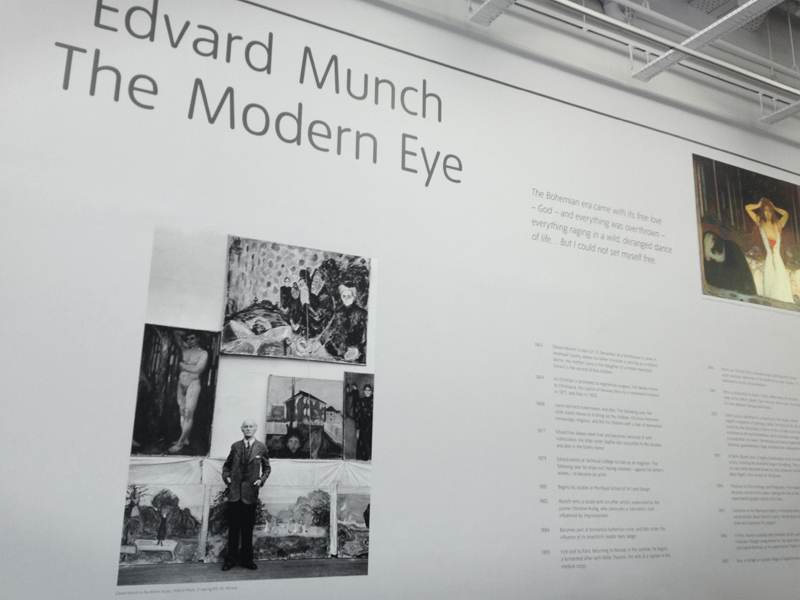 Exhibition design – Tate Modern. Including: Richard Hamilton, Matisse, Lichtenstein, Malevich, Klein/Moriyama, Klee and Munch.
Exhibition design at Tate Britain involved ways of reimagining the UK's National Collection of fine art. Working directly with artists, curators and interpretation teams I developed branding, publications, visitor guides, invitations and exhibition graphics for artwork spanning 500 years of British art.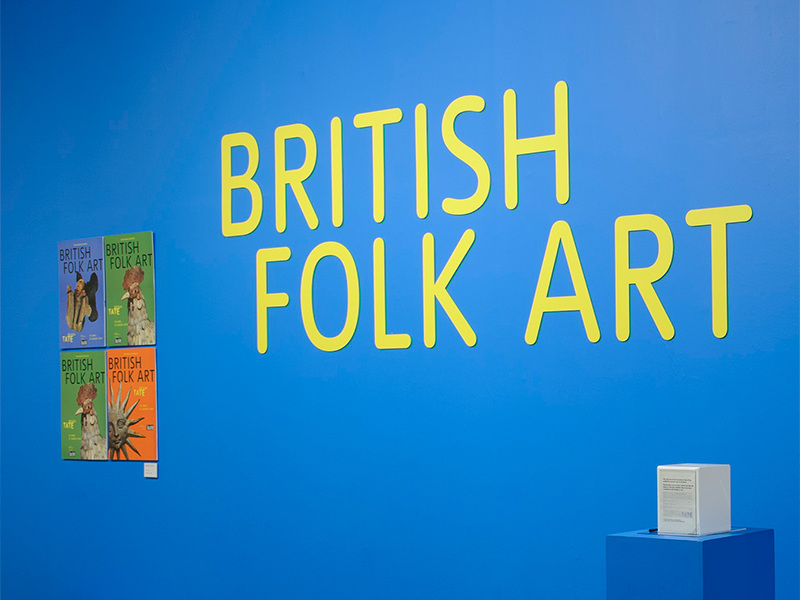 Tate Britain permanent and temporary displays.
Between 2011-16 I created over 50 identities for various high profile exhibitions, including Matisse, Munch, Lichtenstein and Damien Hirst retrospective at Tate Modern in 2012, the most popular solo exhibition in Tate history.
Damien Hirst branding inspired by pharmaceutical packaging.

Tate website.


In 2014/15 I led the design team responsible for Tate's digital transformation project. Tate's current website uses my wireframing and 'plan your visit' navagation system philophopy which saw a dramatic increase in engagement, click through and dwell times across the website.

In late 2015 I was approached by Christie's with a request to bring the museum quality and style of display, branding and digital transformation demonstrated at Tate to the international auction house.
Whitechapel Gallery
2008–2011
The new identity applied on exhibition posters and at The London Art Book Fair.

I worked with external agency (Spin) on the initial concept and application of a brand re-fresh to co-inside with the new Gallery opening, while leading an in-house design team at the Whitechapel Gallery to continue the brand guardianship across signage, print and web.

The plinth-shaped branding device was developed and acts as a graphic tool that helps separate the brand from the image, ensuring a high level of legibility while maintaining the integrity of the artist's work. The use of full bleed and closely cropped imagery suggests the personal relationship a visitor can expect with the art. The consistent use of this new identity makes the Gallery's printed materials easily recognisable.

Working with Holmes-wood I helped create a new wayfinding scheme for the gallery spaces, across two buildings, the resulting signage uses the plinth branding device as information holder. This flexible use of the plinth branding device gives a coherent appearance to major events whilst keeping the Whitechapel Gallery's identity manifest throughout.


Plinth device across signage, print and online.


The recognizable plinth branding device, the refreshed Whitechapel Font and respectful treatment of imagery form the essentials of the renewed visual identity.

The Whitechapel Gallery gave me an incredible grounding in contemporary and modern art. I worked directly with artists to design exhibition materials, highlights include working with Mona Hatoum on her Bloomberg Commission and Rachel Harrison on her first UK solo show. Other highlights include survey shows for Thomas Struth, Fred Sandback, Alice Neal and Elizabeth Peyton.

Whilst working at the gallery I also managed the First Thursday's platform. On the first Thursday of every month, over 150 galleries in east London come together and run free events, exhibitions, talks and private views during a special late opening. My responsibility, maintaining the website, designing printed materials and keeping branding consistent over 150 gallery sites helped build a strong working relationship with partner gallerists and art goers, whilst gaining a greater awareness of the contemporary art world.


The Approach Gallery 2011, Part of First Thursdays.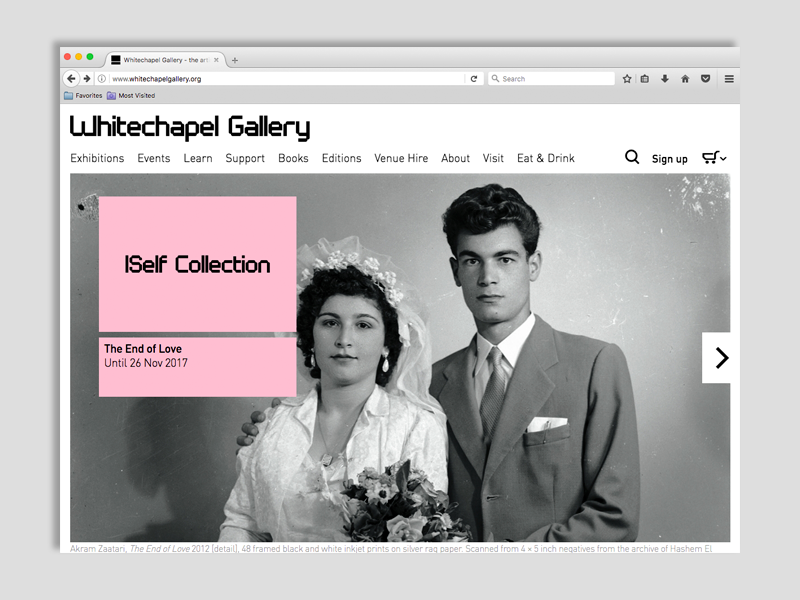 Whitechapel Gallery website.

In 2011 I was part of the commissioning team responsible for the wire-framing and overall refresh of the Gallery's website.

Working with an external agency (Webstars) I helped brief, project manage and create original content for the new look site. Working directly with developers we built a bespoke CMS platform and a fully editable and now trademarked homepage box or 'plinth' device to display upcoming exhibition and events information.

The Whitechapel Gallery's relaunch, my creation of an internal creative department, positive response to the brand refresh and a new website brought me to the attention of Tate's media director who contacted me regarding replicating the 'in-house' model at Tate.



Me (left) installing Matisse graphics at Tate Modern (2015)

For project by project related content please see

index

.